Commercial Cleaning Castle Hill
Your commercial premises is often your first point of contact with your clients. So, it's important to ensure that they impress. Cobwebs, dust and grime should definitely be out of the picture! That's why we're here. We provide thorough, meticulous, expert commercial cleaning Castle Hill and the surrounds. We help local businesses put their best foot forward.
Reliable commercial cleaning
Since starting out as a one-person operation in 2009, we've grown and grown. These days, we have a 12-strong team and more than 80 loyal clients. We believe that our success is largely due to our unwavering reliability. When we take care of your commercial cleaning in Castle Hill, you can rest assured that we'll treat your premises as we would our own. What's more, we'll turn up on time – every time – and get the job done efficiently, maximising our impact and minimising your costs.
Experienced and professional cleaners
With ten years of experience under our vacuums, we've looked after a variety of commercial cleaning in Castle Hill. That includes offices, workshops, gyms and more. We have the know-how to take care of every aspect of your premises – from vacuuming the floors to cleaning the washrooms to wiping down computer monitors. When you hire us for comprehensive commercial cleaning in Castle Hill, we'll leave no keyboard unturned.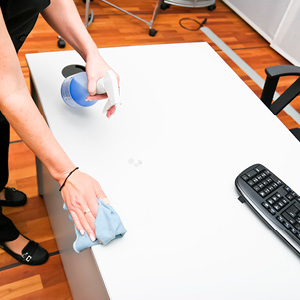 Tailored commercial cleaning in the Castle Hill area
Clients can book us for commercial cleaning in Castle Hill on a regular basis. This ensures that their premises are always at their best, allowing them to focus on the more important matter of running their businesses.
Whether you hire us regularly or for a one-off clean, we offer flexibility. We can provide as few or as many commercial cleaning services as you like. Unsure of what you need? Why not organise a consultation with Jen, the head honcho at Jen's Cleaning? She'll help you to create a package that's ideal for your business. You'll get the exact commercial cleaning that you need.
Get in touch
Would you like to request a quote, book an appointment or organise commercial cleaning Castle Hill as soon as possible? Please get in touch with us today on 0425 211 974 or complete our online contact form.